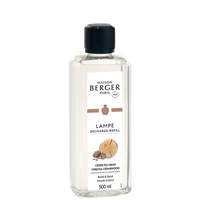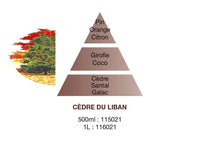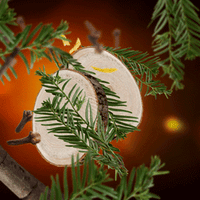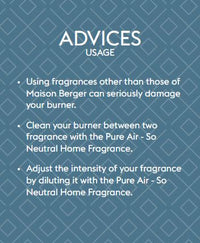 Virginia Cedarwood Lampe Berger Refill 500ml
Liberate your interior with the Lebanon Cedar home fragrance. A woody and spicy scent that takes you to the great outdoors.
Virginia Cedarwood Home Fragrance pays homage to this wonderful raw material in perfumery. Its flight is bright and natural, blending citrus fruits with pine needles, subtly spiced with cloves. A true escape in the great open air where the woody notes of cedar and lignum vitae are enveloped in a milky sweetness. A fragrance imbued with freedom.
Virginia cedarwood is highly used in perfumery. The wood shavings are distilled to create an essential oil, which has a dry, green, resinous odour characteristic of the familiar scent of pencils. Cedar has been used since Antiquity for its rot-proof quality, and it is associated with immortality as it was used to make coffins. It is often used in perfumery as the backbone of compositions and as a base note.

Use with any Lampe Berger to purify and delicately perfume your home. The Lampe Berger has a unique and patented diffusion system that helps eradicate undesirable odors and bacteria while also diffusing your favorite fragrance. Purify your air the French way.
Duration of Broadcast: 20H of diffusion / 80H of fragrance
Regulatory information: Isopropanol. Highly flammable liquid and vapour.
May cause serious eye irritation, drowsiness or dizziness. Follow the instructions for use.
Advices Usage
Because you deserve the best, we strongly recommend that you use your Lampe Berger exclusively with Maison Berger Paris official fragrances. 
Only the use of Maison Berger Paris fragrances with the Maison Berger Paris catalytic process can guarantee quality and safe use of the Lampe Berger.