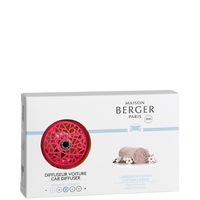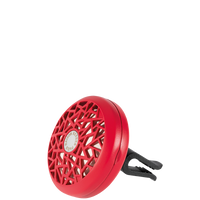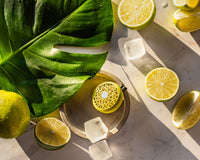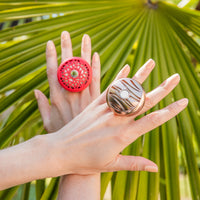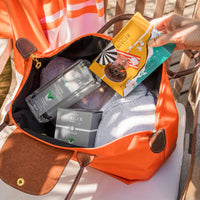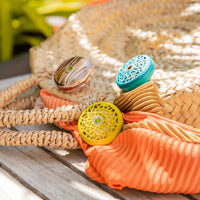 Car Diffuser Cotton Caress Set
A touch of summer air wafts over your car interior with the Raspberry Car Diffuser and its Cotton Caress refill. The mouth-watering colour of the car diffuser, full of audacity and joy, makes a change from the norm. A comforting and pure fragrance emanates from this small perfuming object like a gentle Cotton Caress. The fresh notes meet orange blossom and musk, creating an olfactory cocoon.
The diffusion time of a ceramic refill is 4 to 6 weeks.
This set includes a ceramic refill:

 

Perfume Cotton Caress
FRAGRANCE: Cotton Caress
Category: Pure / Light & Powdery
The Cotton Caress Home Fragrance offers reassuring softness, elegant airiness and comfortable and mellow olfactory well-being. This powdered floral scent opens with clean notes before revealing an innocent rose and orange blossom heart. This new olfactory composition is enveloped in honey-sweet softness where white musk and vanilla reflect each other.
Head Notes
Rose, Fresh notes, Aldehydes
Heart Notes
Orange blossom, Powdered notes
Base Notes
Cedar, Musks, Vanilla
DIMENSION:
Outer Packaging: L 14cm x H 9cm x W 3.3cm
Diffuser: Ø 4.5cm
TIPS FROM THE MASTER PERFUMER

As with all Maison Berger Paris creations, the greatest attention has been given to the design of this accessory. 
Even the packaging has been designed for maximum preservation of the olfactory qualities of the perfume.
Its fragrances have been developed especially for this mode of diffusion by French master perfumers and are naturally colourant-free.
They can be refilled with any of our Maison Berger fragrant refills to give you an endless scented environment!
ADVICES 
USAGE
The diffuser must be clipped to your vehicle's air vent.
For a more intense fragrance: just let it work with your air conditioning on.