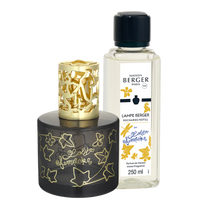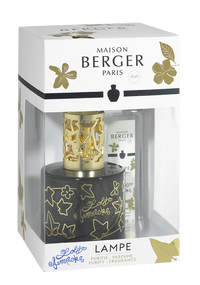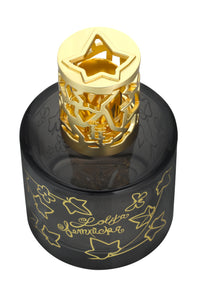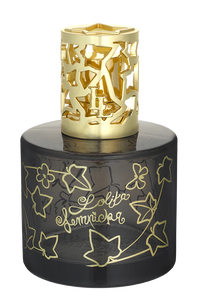 Lolita Lempicka Home Fragrance Lamp Gift Set in Black Glass
Indulge your fantastical side with a lamp as whimsical as a fairy tale.
This gift set contains the Lolita Lempicka Pure Black Fragrance Lamp with the whimsy of a moonlit fairy garden and a darkly fanciful design!
The body of the fragrance lamp is crafted from translucent black glass, embellished by a discreet golden pattern. A small butterfly flits around the ivy leaves, ready to alight. The openwork cap, a gleaming satin golden adornment sitting atop the fragrance lamp, continues the nature theme with its ivy-leaf pattern.
The accompanying Lolita Lempicka Home Fragrance spins an enchanting fairy tale. Bewitching top notes of licorice flower meld with middle notes of powdery violet leaf on a bed of tonka bean notes. Let this whimsical fragrance lamp whisk you away to a mystical garden of aromas.
Fragrance Lamp is sold in a gift set with the following 5 accessories:
1. Wick-burner
2. Gold diffuser cap
3. Stopper
4. Funnel
5. Lolita Lempicka home fragrance in a 250 ml bottle.
Benefit of choosing Maison Berger:
The Lampe Berger by Maison Berger has a unique and patented diffusion system that helps eradicate undesirable odors and bacteria while also diffusing your favorite fragrance. Purify your air the French way.

HOME FRAGRANCE IS DYE FREE
*Please note, we DO NOT ship this product to California, Alaska, or Hawaii.
Because you deserve the best, we strongly advise you to use your Lampe Berger only with Maison Berger Paris fragrances.
Why? Only the use of Maison Berger Paris fragrances with the Maison Berger Paris catalytic process can guarantee quality and safe use of the Lampe Berger. Using fragrances other than those of Maison Berger can seriously damage your burner.
Specifications:
| | |
| --- | --- |
| Dimensions (HxWxL) | 12 x 8.2 x 8.2 cm (4.7 x 3.2 x 3.2 in) |
| Color | Black |
| Cap | Gold Lolita Lempicka |
| Reference | 314752 |
| Regulatory information | Isopropanol. Highly flammable liquid and vapor. May cause serious eye irritation. May cause drowsiness or dizziness. Dangerous. Follow the instructions for use. |
| Capacity | 220 ml (7.4 oz) |