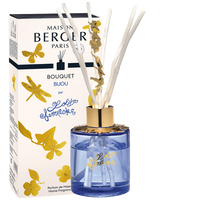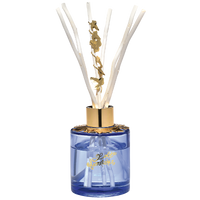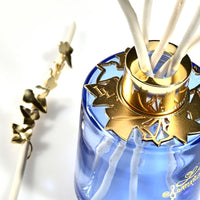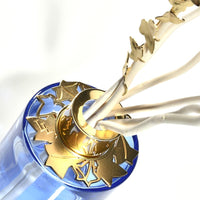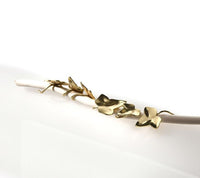 Lolita Lempicka Violet Jewlery Scented Bouquet
Two worlds that meet and unite into a single creative movement in this exceptional collaboration. The designer Lolita Lempicka has joined her art with that of Maison Berger Paris.
The Jewlery Scented Bouquuet Lolita Lempicka Violet has been reinvented to end this year. The violet colour, so emblematic of the brand, offers the bottle a modern and timeless appearance. It catches the light and is resplendent in its finery of gold jewellery carved with ivy. The deliciously oriental notes of « Mon Premier Parfum » are ready to be diffused throughout your home! Liquorice flowers and violet petals form a delicious sweet and floral blend. Originality and poetry are the watch words of this creation for a decorative piece that is quite out of the ordinary. Succumb to the sensuous beauty of this Jewlery Scented Bouquet Lolita Lempicka Violet. Several perfume rituals make up the Lolita Lempicka collection. Will you choose the sublime Lampe Berger? The scented car diffuser? Or will you fall for the scented bouquet? With their unique design, these objects are sure to have an effect on your guests. Let yourself be tempted!
Bouquet pre-filled with Lolita Lempicka fragrance
Refillable with 200ml Scented Bouquet Refill
Fragrance guaranteed without any colourants
Features:
| | |
| --- | --- |
| Height | 22,5 cm |
| Width | 6,5 cm |
| Length | 6,5 cm |
| Material | Glass |
| Amount | 115 ml |
| Color | Parme |
| Reference | 006221 |
| Regulatory information | Isopropanol. Highly flammable liquid and vapour. Causes serious eye irritation. May cause drowsiness or dizziness. Contains: coumarin, piperonal, 1-(2,6,6-trimethyl-1,-cyclohexen-1-yl)pent-1-en-3-one, beta-damascenone. May produce an allergic reaction. |