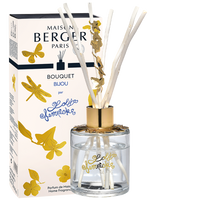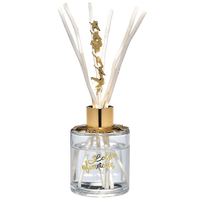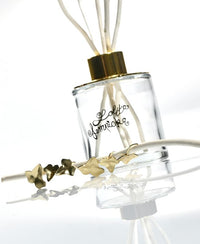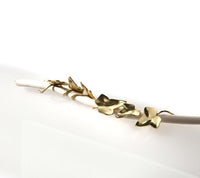 Lolita Lempicka Transparent Jewlery Scented Bouquet
The iconic Lolita Lempicka fragrance is enhanced by this beautiful ornate object signed Maison Berger Paris. A delicate, generous masterpiece which is evocative of souvenirs of forgotten scents.
The Lolita Lempicka collection returns to Maison Berger Paris with the new Jewlery Bouquet Lolita Lempicka Transparent. The very minimalist, transparent bottle lets us see the natural willow twigs that are immersed in the "Mon Premier Parfum" fragrance. The gilding adds a touch of chic and captures the attention. The flat jewel at the base of the ring and the one on one of the twigs copies the symbol of the ivy leaf, both wild and indomitable. Not only will you decorate your home with an extraordinary creation, you will slip back into your childhood with the scents of licorice, violet leaves or caramel. Sweets, pastries or flowers are the kind of everyday smells that inspired Lolita Lempicka to create this fragrance. Let yourself be tempted by the Jewlery Bouquet Lolita Lempicka Transparent. The Lolita Lempicka collection is available in scented bouquets, perfumes, lamps or as a car diffuser. What a treat for fans of these two major brands.
Bouquet pre-filled with Lolita Lempicka fragrance
Refillable with 200ml Scented Bouquet Refill
Fragrance guaranteed without any colourants
Features:
| | |
| --- | --- |
| Height | 22,5 cm |
| Width | 6,5 cm |
| Length | 6,5 cm |
| Material | Glass |
| Amount | 115 ml |
| Color | Transparent |
| Reference | 006220 |
| Regulatory information | Isopropanol. Highly flammable liquid and vapour. Causes serious eye irritation. May cause drowsiness or dizziness. Contains: coumarin, piperonal, 1-(2,6,6-trimethyl-1,-cyclohexen-1-yl)pent-1-en-3-one, beta-damascenone. May produce an allergic reaction. |