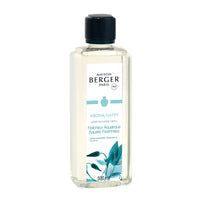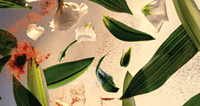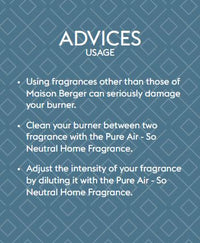 Lamp Refills 500ml Aroma Happy
A summer fruit to savour, tangy flavours, a regenerating vibe and a liberating oil… A feeling of lightness, something close to happiness!
In the Aroma collection, this Happy Aquatic Freshness version is the essence of well-being. Essential oil of eugenol releases its uplifting and invigorating virtues, while the olfactory composition gives off the scent of crisp green apple and the watery flavours of a summer melon. The heart is dominated by monoi and the sunny accents of a floral bouquet exalted by frangipani flowers, which settle on the rounded softness of an amber base and the sweet trio of amber, musk and peach.
This collection of Maison Berger Paris home fragrances is also the fruit of French excellence, that of the Master Perfumers of Grasse and their know-how: the guarantee of quality, of perfectly safe, purified, healthy and deliciously scented air by Maison Berger Paris.
Perfume secret
With this Aroma collection, Maison Berger Paris explores the aromachological virtues of essential oils and the influence of their odour on our psyche. In this Happy version, eugenol has pride of place. Clove, known for its invigorating properties, its tendency to liberate energies and its revitalising power, plays the good mood ingredient of this home fragrance!
ADVICES USAGE
Using fragrances other than those of Maison Berger can seriously damage your burner.
Clean your burner between two fragrance with the Pure Air - So Neutral Home Fragrance.
Adjust the intensity of your fragrance by diluting it with the Pure Air - So Neutral Home Fragrance.
Because you deserve the best, we strongly advise you to use your Lampe Berger only with Maison Berger Paris perfumes.
Why? Only the use of Maison Berger Paris perfumes with the Maison Berger Paris catalytic process can guarantee quality and safe use of the Lampe Berger. Using any other perfume than those by Maison Berger Paris could damage your Lampe Berger irreversibly. 
PERFUME
Aroma Happy Aquatic Freshness
A fresh and aquatic fragrance for a joyful and lively atmosphere. The flight is crisp and refreshing with apple and melon; the heart is luminous with its sunny facet and the delicately amber-infused bottom completes the olfactory composition. To complete the trip, essential oil of clove offers beneficial virtues. In addition to being invigorating, it has anti-depressive and balance-restoring values.
HEAD NOTES
Melon, Green Apple
HEART NOTES
Monoï, Lily of the valley
BASE NOTES
Amber, Tuberos